RigSat Communications offers complete rental Wireless Rig Intercom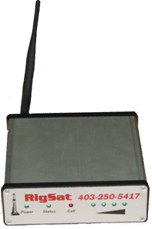 systems for Oil Rigs. With the most advanced intercom systems available our daily rental rates are some of the most competitive in the industry. Our systems come complete with the following:
Powerful
and wireless to reach every corner of your location without external antennas or equipment wired outside your shack, unlimited extensions.
Secure with proprietary digital voice technology
Point to point design also ensures no one can listen in on your conversations
Safety standards are met with CSA approved rig
phones and loud horn ringers
Flexibility–Unlimited extensions which allows multiple rigs within range to talk to each other
Reliable and Easy because of heavy duty equipment used on the rig side and nothing to rig back on moves it saves on service calls
Professional and quick installation no matter where you need it.
Certified to CSA Standards
Hazardous area telephones for class 1, division 1 and/or class 1, division 2, hazardous areas.
Loud ringer for all rig phones.
Secure and high quality wireless voice connection to each extension.
Cordless and corded desk phones for each shack extension provided.
No wires across the drill site or between the wellsite trailers.
Reliable wireless technology means interference is not a concern .
System also allows connection of an explosion proof loud ringer.
Custom solutions to any industry or situation available